My Teaching/Education Philosophy
 "As our circle of knowledge expands, so does the circumference of darkness surrounding it."
Albert Einstein
"Chance favors the prepared mind, yet happiness is to awaken another."
Marian Diamond
I have always had a deep love of learning and a childlike passion for exploring the world around me. Through pondering important issues and constantly seeking meaning in my personal experiences, I have been able to better understand the world and enhance the lives of others.
I love the liberal arts model of education and the opportunities it afforded me to take courses in a wide range of disciplines in the social and hard sciences, mathematics, and the humanities. In my studies I came to recognize that there is an interconnectedness and interdisciplinary nature to all fields of learning. Like John Dewey, my education taught me to not necessarily choose one side of any theoretical coin at the expense of the other because I can often see potential merit in both approaches. It is important to use the right tool for the job and look at the world with the lens that provides the best glimpse of what I am trying to observe. I strive to explain and model this approach in my teaching.
My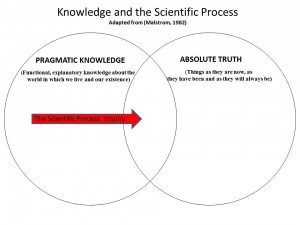 passion in learning and teaching is grounded in inquiry, and I firmly believe that the lenses of observation, inquiry, critical thinking, and problem-solving are invaluable for any field of study. I see scientific inquiry as a quest to understand the unchanging laws that govern the universe and everything in it. Although much of our current knowledge is constructed by individuals and societies, the pragmatic (changing) nature of that knowledge occurs because we have not yet effectively observed or identified all absolute truths and principles. Yet it is through the pursuit of that knowledge that we can grow and progress as individuals and societies. I visualize our current "knowledge" about the world and "absolute truth" as two spheres that are overlapping with the former constantly moving toward the latter. Eventually, through scientific discovery, what we "know" and what "is" will be the same. In the context of John Dewey's approaches to education, knowledge is not a static object to be obtained and passed from the elders to the growing generation, but a fluid and ever-changing entity that is actually being shaped by both the elders and the growing generation. Knowledge of the past must be emphasized as an important means, not as an end, in education.
Because quality formal education facilitates meaningful learning opportunities within relatively rigid prescribed time periods, my teaching philosophy includes a balance between guided inquiry and didactic teaching methods. Guided inquiry allows teachers to assist students in using inquiry tools to try to answer questions about observable phenomena in any field of study, while a didactic teaching approach can be an effective way to disseminate information quickly and concisely. Teaching with inquiry alone can limit the amount of information that can be covered, but a purely didactic approach can limit students' abilities to engage in and learn the processes of inquiry that produced the disseminated information in the first place. Finding a balance between these approaches is crucial for effective teaching.
I also firmly believe that one of the best ways to learn something is to do it yourself. In other words, "what you do is what you learn."  My doctoral research focused on how elementary and middle school teachers learn science subject matter knowledge (SMK) and pedagogical content knowledge (PCK) from their own teaching practice and ways to help them better learn from teaching. Additionally my experience training after school science instructors, conducting teacher professional development, and teaching undergraduate students echoes Eleanor Duckworth's assertions that an effective way to teach teachers is to have them learn the content in the same ways they will be expected to teach it to their students.
For learning any subject matter, I employ a "hands-on" and "minds-on" approach to teaching. An essential aspect of facilitating active learning in my classrooms involves the ability to relate information to learners' past, current, and future experiences (or to "psychologize the subject matter" as John Dewey put it.)  Further, I adhere to the spiral learning theories developed by Jerome Bruner and Lev Vygotsky. Bruner suggests that learners at all levels need an understanding of the "fundamental structure" of subjects and that more advanced details can and should be added to that foundation of knowledge as the learners' ability to understand it increases. Finally, when teaching, my goal is to scaffold learning so that students can construct their own knowledge, thus helping them learn more than they would have learned independently.
I am, and always will be, a student and a teacher. I love awakening the joy of learning in my students, and I anticipate a long career continuing to facilitate active learning and knowledge construction within the inquiring minds of my students.
Please follow and like us: